It's been a busy week! I spent last weekend at a wonderful retreat. Worked on a couple of projects.
I finished a baby quilt top using the disappearing 9-patch with these fun crayon fabrics. I plan to pick an overall design to quilt this on my machine. More to follow.
I also continued to work on my Mason's Whirl Wall design. I plan to have it available in a pattern on Craftsy soon. Here is the WIP:
I was trying to make it with the background PLUS 4 but I think PLUS 6 will work better. Going to add a couple of more fabrics and go at it again.
Here is the pattern as I used it for the ALQS8 in which I used leftovers from a bali pops PLUS 2 backgrounds. I like the scrappy look best myself.
In 2014 I hope to complete my Free Motion / Crazy Quilt 30 block project that I started in 2011.
This is the 3rd block:
This block contains Leah's 21 through 30 designs
:
I really had fun with this one. Loved getting back into working with the stitches. I am working from Leah's book which you can find on her site in an eBook or Amazon as a regular book. There have been a couple of blocks that were hard for me to figure out where to start going by the picture, for those I visited Leah's site where I could easily look up each design by there number and see Leah's wonderful videos.
See - Part #1 & Part #2 in prior blogs. Each block showcases 10 designs.
Thanks for stopping by. For lots of other creative happenings stop by those
site that I link up with....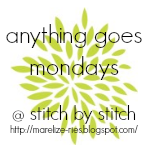 Marie